DVDs from TCM Shop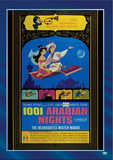 1001 arabian nights An Arabian merchant falls in... MORE&nbsp> $17.95 Regularly $20.95 Buy Now
NOTES
DVDs from TCM Shop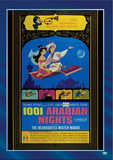 1001 arabian nights An Arabian merchant falls in... MORE&nbsp> $17.95
Regularly $20.95 buy now
The working title of this film was Magoo's Arabian Nights. In onscreen credits, the film's title is rendered in lowercase as 1001 arabian nights. Before the title card, the phrase "The Nearsighted Mister Magoo" appears onscreen. This is followed by the entrance of "Mr. Magoo," who pulls down the two "oo's" from his name and swings them around to form the number "1001". According to publicity materials contained in the film's production file at the AMPAS Library, production designer Bob Dranko prepared more than 300 individual backgrounds for the film, all of which were then hand-painted by the studio's color staff, headed by Jules Engel. The film's action was charted on more than 250,000 drawings, and over 100 artists were involved in the project. Jack Kinney, the director of 1001 arabian nights, previously worked at the Disney Studios.
1001 arabian nights marked the first feature length cartoon produced by UPA Pictures, Inc. UPA introduced the character of Magoo on September 8, 1949 with the one-reel short Ragtime Bear. Actor Jim Backus was the voice of the character. In 1952, Magoo became a comic book figure, and from 1960-1961, UPA produced a television series based on the character. 1001 arabian nights marked Magoo's feature film debut.
Hollywood Reporter news items noted that the studio was considering producing two other Magoo films. Although those were never made, UPA did release the 1970 Mr. Magoo's Holiday Festival (see AFI Catalog of Feature Films, 1961-70), which was a compilation of two made-for-television, holiday-themed Mr. Magoo cartoons. There were also several other television shows featuring the myopic character, as well as the 1997 film Mr. Magoo, directed by Stanley Tong and starring Leslie Nielsen with Greg Burson as the voice of Magoo. For other information regarding the tales of the Arabian nights and films based on the legend, please see entry for the 1942 Universal film Arabian Nights in AFI Catalog of Feature Films, 1941-50.