DVDs from TCM Shop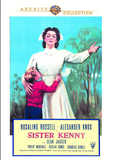 Sister Kenny True story of the Australian... MORE&nbsp> $17.56 Regularly $21.99 Buy Now
NOTES
According to modern biographical sources, the real Elizabeth Kenny, like the film character, began practicing as a nurse in Australia in 1911. Contrary to the film, however, she had received no formal training in nursing. She worked in the Australian army nursing corps between 1915 and 1919. In 1933, she established a clinic in Townsville, Queensland, and opened a clinic in England in 1937. Her Minneapolis clinic was opened in 1940. Kenny died of a stroke in 1952 after suffering for years from Parkinson's disease. The term "sister" is used in Australia to denote military nurses. Archer Winston of the New York Post noted in his review of the film, as quoted in Hollywood Reporter, that according to an orthopedic specialist he interviewed, Kenny's method had not been accepted by the medical community and that its results were "in no way distinguishable from those of customary physical therapy." Other reviewers also commented that despite Kenny's claims, her methodology had not been proven obviously superior to more conventional treatments. Modern assessments of her techniques are more generous; actor Alan Alda attested in a modern interview that he was cured of polio as a child using the Kenny method. With money she earned from a stretcher patent, Kenny financed her clinics herself and never, according to biographical sources, profited from her practice.
The idea for a film version of Kenny's life began years before the picture was actually made, although accounts of its inception differ. According to a November 1943 Los Angeles Daily News article, screenwriter Mary McCarthy first got the idea in late 1942 after reading a biographical account of the nurse in Reader's Digest. (Two Reader's Digest articles were actually published about the nurse in December 1941 and October 1942). McCarthy then convinced a reluctant Kenny to cooperate, agreeing to her stipulation that the film would cover adequately Kenny's moist pack treatment and early physical therapy. After securing Kenny's permission, McCarthy brought an outline she had written to Rosalind Russell, who was Kenny's choice for the title role, and Russell in turn approached then RKO vice-president Charles Koerner with the idea. According to a September 1942 Hollywood Reporter news item, Milton Gunzburg was to collaborate with McCarthy on the screenplay, but his contribution to the completed film, if any, has not been determined. In the November 1943 Los Angeles Daily News article, David Hempstead was announced as the film's producer, and Edward Dmytryk as director. The production was to begin filming in late December 1943. According to various September 1946 news items, however, it was Russell who initiated the film biography. Russell financed a documentary film about the Kenny method in 1942 after reading a magazine article about her and traveled around the country with her. She then reportedly spent three years pitching the idea of a screen biography to Hollywood producers. After being turned down by L. B. Mayer, Darryl F. Zanuck, Jack L. Warner and others, who claimed the story had no box office appeal, Russell convinced Koerner to back the proposal.
A November 1943 New York Times article noted that RKO bought the story rights from Kenny for $100,000 after an option acquired by Benedict Bogeaus, a United Artists' producer, had expired. Kenny donated the $100,000 to a trust for her seventeen nephews in the Australian Air Force. The same article added that the picture was budgeted at $1,200,000 and that Kenny stipulated in her contract that Russell would play her.
Although Hollywood Reporter announced in February 1944 that Clifford Odets was to do a polish of the screenplay, Dudley Nichols was brought in as the picture's writer and producer in April 1944. Odets' contribution, if any, to the completed film has not been determined. In May 1944, Hollywood Reporter announced Jean Renoir as the film's director. Actor Philip Merivale died on March 12, 1946, prior to the film's release. RKO borrowed Alexander Knox from Columbia for the production. According to Hollywood Reporter, Kenny supervised Rosalind Russell during makeup and wardrobe tests. Technical advisor Valerie Harvey was a nurse technician who worked with Kenny, according to Los Angeles Daily News. Hollywood Reporter noted that Broadway star Francesca Bruning was to make her screen debut in the role of "Mrs. McIntyre," the part played by Fay Helm. July 1946 Hollywood Reporter news items announced that Kenny was going to back out of attending the New York premiere of the picture so that she could help out during a polio epidemic in Minneapolis. By mid-September 1946, however, Hollywood Reporter reported that Kenny and a "group of Minneapolis civic leaders" would be attending the premiere. According to modern sources, the picture lost $660,000 at the box office. Russell was nominated for an Academy Award for her performance in the picture.