DVDs from TCM Shop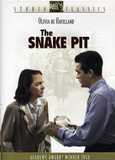 The Snake Pit A young woman tries to recover... MORE&nbsp> $11.21 Regularly $14.98 Buy Now
NOTES
Snippets from Antonn Dvork's From the New World symphony, Johannes Brahms' Symphony No. 1 in C Minor and Kenneth Casey and Maceo Pinkard's "Sweet Georgia Brown" are heard in the film. Contemporary sources, including items from the Twentieth Century-Fox publicity department, add the following information about the production: The novel The Snake Pit was inspired, in part, by author Mary Jane Ward's own eight-and-a-half month stay in New York's Rockland State mental hospital, following a nervous breakdown. In May 1945, Bennett Cerf, head of Random House, which published Ward's book, gave director Anatole Litvak a copy of the novel's galleys to read. Impressed, Litvak, who was a colonel in the U.S. Army at the time, sent the galleys to actress Olivia de Havilland (whose name is written "deHavilland" in the screen credits), and she immediately agreed to play the lead character "Virginia." Litvak paid Ward $75,000 for the film rights to the novel, in installments, and began taking it to various studio heads, all of whom deemed the subject matter too risky. In the summer of 1946, Litvak showed the property to Twentieth Century-Fox production chief Darryl F. Zanuck, an old friend, who then bought the rights from Litvak for $175,000 and hired him to direct and co-produce with Robert Bassler.

For the screenplay, screenwriters Frank Partos and Millen Brand changed significant aspects of the novel's main character. In Ward's novel, for example, Virginia suffers from an undefined neurosis and receives unspecified treatment, while in the screenplay, she is described as a schizophrenic with an Oedipal complex who undergoes a range of treatments. To assure the picture's authenticity, Partos and Brand, as well as Litvak and Bassler, visited mental institutions in the East. Three prominent New York psychiatrists, whose identities, along with those of several other doctors, were kept secret during production, were consulted. These doctors were later identified in a New York Times article as Dr. Carl A. Binger, an Associate Professor of Clinical Psychiatry at Cornell University; Dr. M. Ralph Kaufman, chief psychiatrist at Mount Sinai Hospital; and Dr. Sidney Loseef Tamarin, supervising psychiatrist at a New York mental institution. Correspondence found in the MPAA/PCA files at the AMPAS Library indicates that Dr. Thomas Rennie also advised on the scriptwriting, but his contribution to the completed film has not been confirmed. A July 1947 Hollywood Reporter news item added that Tamarin and Dr. Alma Margaret Comer came to Hollywood to assist with "mental hospital sequences" during filming. According to the Twentieth Century-Fox Records of the Legal Department, located at the UCLA Arts-Special Collections Library, the studio approached Dr. Gerard Chrzanowski, the psychiatrist who took care of Ward and was the basis of the character "Dr. Kik," about advising on the film, but he declined to participate.

Although some sources state that de Havilland was Zanuck's first choice to play Virginia, Hollywood Reporter news items from late 1946 announced both Gene Tierney and Joan Fontaine, de Havilland's sister, as possible stars. Modern sources state that Ingrid Bergman was Litvak's first choice, but that she turned down the role. Studio legal files indicate that Joseph Cotten and Richard Conte were considered for the part of "Dr. Kik." Litvak reportedly instructed the film's principal actors and crew to visit mental institutions prior to production. For her part, de Havilland conducted research at Camarillo State Hospital in California. In a modern interview, de Havilland described her experience at the hospital: "I met a young woman who was very much like Virginia...a schizophrenic with guilt problems. She had developed...a warm rapport with her doctor, but what struck me most of all was the fact that she was rather likable and appealing...it was that that gave me the key to the performance."

Twentieth Century-Fox borrowed cinematographer Leo Tover from Paramount for the production. The "adult" sequences were completed first, then after a month-long hiatus, the childhood sequences were shot. Litvak ordered that no hairdressers be present on the film set and that the actresses not wear brassieres or girdles. According to a New York Times article, costumer Bonnie Cashin's design for de Havilland's and Celeste Holm's costumes was a composite of patient outfits observed during a tour of West Coast institutions. Studio legal records indicate that recordings of patients were made at the Camarillo hospital for use either on the soundtrack or as a "technical quide," but were later destroyed due to fears of lawsuits. Although a Hollywood Reporter news item announced Frieda Stoll as a cast member, her appearance in the final film is doubtful. According to a December 1948 Hollywood Reporter article, "several scenes which indicated the gradual recovery of Virginia were edited out in the cutting room."

Just after the picture's New York premiere, Litvak, in a New York Times interview, applauded writer Arthur Laurents' uncredited contribution to the screenplay. Although Litvak stated that screenwriting novice Laurents "put in six weeks polishing the screen play" but did not receive credit because he forgot to initial his draft, Sheridan Gibney, President of the Screen Writers Guild in Hollywood, insisted that Laurents' claim of significant authorship was invalid. As part of his arbitration with the Screen Writers Guild, Laurents requested an "additional dialogue" screen credit, but was denied. Despite the Guild's ruling, the Screen Achievements Bulletin listed Laurents as a "contributor to screenplay construction."

Often described as the first film to deal seriously with mental illness and mental institutions, The Snake Pit received much praise upon its release. The Hollywood Reporter reviewer wrote: "A picture so compelling, dramatically exciting and frankly courageous as to defy comparison. Nothing like it has ever been done before in films." Bosley Crowther of the New York Times noted at the end of his review: "The Snake Pit, while frankly quite disturbing and not recommended for the weak, is a mature emotional drama on a rare and pregnant theme." For the New York run, theater ads warned parents not to bring children because of the picture's grim subject matter, and in a mid-November 1948 article, Crowther strongly advised that the picture be shown in "theatres of limited capacities catering to an adult clientele." Despite the admonitions, the two-million dollar film broke box-office records in many cities and became Twentieth Century-Fox's highest grossing picture of the year.

The film was nominated for the following Academy Awards: Best Picture, Best Direction, Best Writing (Screenplay), Best Actress and Best Music (Scoring Dramatic or Comedy Picture). It won an Oscar for Best Sound Recording (Thomas T. Moulton, Sound Director). In addition to her Oscar nomination, de Havilland received many accolades for her performance, including the New York Critics Award for Best Acting of 1948, the Foreign Language Press Film Critics' award for best actress of the year, and a Venice Film Festival Award. The Foreign Language Press Film Critics association also voted The Snake Pit as the Best Picture of 1948. For his work, Litvak received a quarterly Screen Directors Guild award for directorial achievement, and Partos, Brand and Ward were lauded with awards from the Screen Writers Guild. The Committee of American Psychologists praised the picture for "awakening the public to the deplorable conditions existing in public institutions for the mentally ill" and gave it an award for "outstanding contribution by the entertainment industry to the field of mental health." In addition, the California Citizens Committee for Mental Hygiene gave The Snake Pit a scroll, honoring it for awakening "millions to a greater knowledge and appreciation of the causes of mental illness." The December 20, 1948 issue of Time magazine featured de Havilland on its cover, as well as an extensive article about the film's production.

Because of censorship edicts that prohibited the making or showing of films dealing with insanity, British distributors initially were unable to release the The Snake Pit in England. According to an April 1950 Motion Picture Herald article, nursing organizations applied particular pressure on the British Board of Film Censors, complaining that "young girls seeing the film might be deterred from entering the nursing profession." After five months of wrangling, Twentieth Century-Fox agreed to allow British officials to delete certain scenes from the picture, and the film opened in London in mid-May 1949. Approximately 1,000 feet of film, mostly from the more extreme hospital scenes, was cut, according to news items. The picture broke box-office records in London, and won much critical praise there. According to a September 1952 Daily Variety news item, the film was screened for patients at a Boston state hospital and was well-received by the "inmates...who felt that because the heroine was cured and left the institution that they, too, might be cured." De Havilland, Mark Stevens and Leo Genn reprised their roles on a April 10, 1950 Lux Radio Theatre broadcast.