DVDs from TCM Shop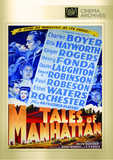 Tales of Manhattan New Yorkers from all walks of... MORE&nbsp> $12.95 Regularly $19.98 Buy Now
OVERVIEW
DVDs from TCM Shop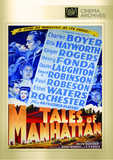 Tales of Manhattan New Yorkers from all walks of... MORE&nbsp> $12.95
Regularly $19.98 buy now
Brief Synopsis
New Yorkers from all walks of life come into contact with a supposedly cursed tailcoat.
Just before the opening of his new Broadway show, famed actor Paul Orman is fitted with a new formal tail coat by his tailor. The tailor nervously admits that the coat was cursed by a dismissed cutter, who swore that it would bring misfortune to anyone who wore it, but Orman does not care. After a well-received performance, Orman instructs his valet, Luther, to drive him to the country estate of Ethel Halloway. Ethel was once Orman's paramour, but after the end of their affair, she married John Halloway, a rich big-game hunter. Luther believes that Orman is better off without Ethel, but the actor cannot resist engineering an impromptu rendezvous with her. Orman and Ethel alternately declare their love and suspicions about each other's motives, until he admits that he should never have broken with her, then persuades her to go to Brazil with him. Just after Orman calls his manager and instructs him to close the play, Halloway enters and menancingly shows Orman his favorite rifle. Halloway shoots Orman, and after stating that he did so accidentally, convinces Ethel to promise to testify that it was an accident. Ethel also tells Orman that she will support his version, that the shooting was deliberate, and Orman finally realizes that she lies to everyone and has no intention of ever leaving her husband for him. After asserting that Halloway missed him and that he was only pretending to be shot in order to reveal Ethel's false nature, Orman collapses in his car and instructs Luther to take him to the hospital.
Soon after, Luther takes the tail coat, with its bullet hole intact, and gives it to his friend, Edgar, as security for a ten-dollar loan. Edgar is the butler for Harry Wilson, a Manhattan playboy who is to be married that evening to Diane. While Harry recovers from his wild bachelor party of the previous night, Diane receives a visit from her friend Ellen, who is determined to divorce her husband after finding evidence of his infidelity in his tail coat pocket. Diane advises her not to search her husband's clothes, then takes her to Harry's apartment. As they are waiting for Harry, Ellen urges Diane to look in his tail coat pocket, where she finds a torrid love letter from "Squirrel." Harry overhears the devastated Diane reading aloud the letter and calls his best friend, George, whom he implores to come immediately. Using the tail coat that Luther gave to Edgar, George tells Diane that he took Harry's coat when he left the night before, and that the coat she has searched is actually his. Diane is satisfied with the explanation and allows George to keep her company while Harry finishes dressing. The intimate letter makes Diane see timid George in a new light, however, and she falls in love with him as they flirt. George, who has always loved Diane, is thrilled by her response, but when Miss Gray, the "Squirrel" of the letter, arrives to castigate Harry for getting married, George still tries to cover up for him. Diane sees through the charade, and after returning Harry's ring, leaves with George.
Luther and Edgar then pawn the tail coat in order to get Edgar's money. Mrs. Smith sees the coat in the shop and tells the proprietor that she would love to buy it for her husband Charles, who is an accomplished musician and composer. At that moment, Charles, who is playing piano in a saloon, leaves his degrading job to watch the famed conductor Arturo Bellini at a rehearsal. Charles' friend, Wilson, convinces Bellini to see Charles, and despite his fright, Charles plays his "Bacchanale Moderne" for the conductor. Bellini is impressed with the piece and offers Charles the opportunity to conduct it at his next concert. On the night of the event, Wilson tells Charles that he must wear a formal tail coat. As Charles rushes to the theater, Mrs. Smith returns to the pawnshop and buys the coat, which is much too small for Charles. Nothing can be done, however, so Charles goes onstage and conducts his symphony. The coat tears twice as Charles moves vigorously and the audience begins to laugh. One of the musicians finally informs Charles, who removes his coat, but the laughter continues to swell. As Charles sobs onstage, Bellini stands in his box and slowly removes his own coat. Ashamed of their behavior, the other men in the audience remove their coats and applaud as Bellini gestures for Charles to resume. Charles' music is then a success, and after he leaves the hall with his wife and Wilson, he gives the coat to a worker for the Society to Aid the Friendless.
The tail coat is given to "Father" Joe, a dedicated helper of Bowery bums. Joe receives a letter for Avery L. Browne, a downtrodden fellow whom Joe knows as Larry. Joe takes the letter to Larry, and it is revealed to be an invitation to the twenty-fifth anniversary reunion of his law class. Larry, drunken and dirty as usual, refuses to attend, but Joe cleans him up, dresses him in the tail coat and sends him to the Waldorf-Astoria for the dinner. As Larry greets his old comrades, including his English teacher, Professor Lyons, he becomes more like his former, jovial self. He tells his friends that he was away on an important job in China and enjoys himself until the arrival of Williams, his ex-partner in their Chicago law firm. During the evening, Henderson, one of the attendees, believes that his wallet has been stolen, and when Larry, who is wearing a dickey and a cheap shirt, refuses to take his coat off and be searched, Williams accuses him of the crime. Williams stages a mock trial to prove that due to his low character, Larry must be guilty. Larry pleads his case, telling how he fought in World War I, married a lovely girl and entered partnership with Williams. During Prohibition, Larry had a successful practice protecting clients of doubtful occupations, but afterward, his practice fell apart and he was disbarred, probably through Williams' machinations. After losing his wife, Larry became a drifter and has wandered the streets of New York for the past six years. Finally removing his coat, Larry offers to be searched, then leaves when none of his friends speak. Henderson's chauffeur then enters and produces his wallet, which was left in the car. Completely dispirited, Larry gets drunk and returns to Joe's mission the following morning. Also arriving, however, are Larry's friends, Soupy Davis, Hank Bronson and Judge Barnes, who have come to offer him a job. Joe promises that he will send Larry right away, then tells his wife to sell the coat to the Santelli Brothers, a pair of second-hand clothes dealers.
The coat is stolen from the shop by Costello and Monk, hoodlums who want to rob a fancy gambling club. Properly attired, Costello is able to enter the club, then robs its patrons. He makes a getaway in a small plane, but when sparks from the cockpit set the coat on fire, Costello tosses it out before remembering that he hid the stolen $50,000 in it. The coat falls in fields worked by Luke and Esther, two black, Southern sharecroppers. Esther insists that they take the money to Reverend Lazurus, their preacher, who declares that it is manna from heaven. Wishing to help everyone in their poverty-stricken community, Lazurus declares that he will divide up the money to fulfill people's prayers. Esther, who has prayed for a cow, receives sixty dollars, while Luke is given almost eight hundred dollars for a new tractor. Children receive a few dollars each for shoes and toys, and everyone gets some money for presents, for it is Christmas Eve. Even after all the prayers have been accounted for, there is a large sum of money left, and Esther declares that it should be used to build a new church and to buy tools, land and seed so that none of them will go hungry again. Everyone is satisfied until they remember old Christopher, the poorest one of all. They rush to see him, and after explaining the situation, ask what he wants for Christmas. The old man declares that all he desires is something to keep away the pesky crows, and the once glorious tail coat becomes a scarecrow in Christopher's field.
Cast & Crew
SEE ALL CAST AND CREW
Additional Details
MPAA Ratings:
Premiere Info:
World premiere in Hollywood: 5 Aug 1942; New York opening: 24 Sep 1942
Release Date:
1942
Production Date:
A Julien Duvivier Film
EB*; AFI
loaner #2857 +e 25 Jan 1994

Color/B&W:
Black and White
Distributions Co:
Twentieth Century-Fox Film Corp.
Sound:
Mono (Western Electric Mirrophonic Recording)
Production Co:
Twentieth Century-Fox Film Corp.
Duration(mins):

117-118

Country:
United States
Duration(feet):

10,663

Duration(reels):

12
Leonard Maltin Ratings & Review
LEONARD MALTIN MOVIE RATING
LEONARD MALTIN MOVIE REVIEW:
User Ratings & Review
This title has not been reviewed. Be the FIRST to write a review by CLICKING HERE >
User Ratings & Review
User Reviews:
Recommend:

Cinema History:

Cinematography:

Lead Performers:

Supporting Cast:

Director:

Screen Play:

Music Score:

Title Sequence:
User Ratings:
Dont waste your time...

Beau 2018-01-18

I'm a big fan of much of the cast, but what a terrible movie. I found it quite unenjoyable and irritating to watch...from the incessant whistling to... MORE>

tales of manhattan

kevin sellers 2018-01-17

Caught the W.C. Fields sequence on You Tube. Fairly funny but not vintage Fields. I certainly don't think it would have eclipsed the best of the other... MORE>