DVDs from TCM Shop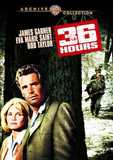 36 Hours Nazis kidnap a key American... MORE&nbsp> $16.95 Regularly $17.99 Buy Now blu-ray
Articles
SEE ALL ARTICLES
36 Hours (1965)
Rugged leading man James Garner stars as Major Jefferson Pike in 36 Hours (1964), a tense World War II espionage thriller. During an American intelligence assignment in Lisbon, Pike is drugged and captured by the Germans on the verge of D-Day. In an elaborately executed ruse, the enemies attempt to trick him into revealing the details of the Allies' impending attack plan. The outcome of the war rests squarely on Pike's shoulders in an edge-of-your-seat race against time. Rod Taylor co-stars as the psychiatrist assigned to extract the information from Garner, and Eva Marie Saint plays the complicated Anna, a concentration camp survivor forced to play a part in the Germans' scheme.


Film and television star Garner had a personal stake in the success of 36 Hours since his company, Cherokee Productions, co-produced the picture. Together with William Perlberg and George Seaton (who also directed) Cherokee pulled together a team that also included composer/conductor Dimitri Tiomkin and MGM's Bill Tuttle who did the makeup. Location shooting in Portugal, Germany and Yosemite National Park lent the film an air of visual authenticity. The only real difficulty Garner encountered was in securing the rights to use German newsreel footage, but he prevailed in bringing a touch of historic realism into the film.


George Seaton's screenplay for the film was based on a Roald Dahl short story called "Beware of the Dog." Dahl may seem a surprising source for such a serious adult drama since the late author is best known for his wealth of popular children's stories. Among his work are books such as Charlie and the Chocolate Factory, The Witches and James and the Giant Peach, all of which were also made into successful movies. No stranger to the details of World War II, the British-born Dahl had been a pilot in the Royal Air Force when fighting broke out. After he was injured in duty, he was transferred to Washington D.C. in 1942 where he worked as an Air attache and began his career as a writer recounting his experiences of war.


For James Garner and Cherokee Productions, 36 Hours was a solid success. Garner continued to work steadily through the years gaining popularity in the 1970s television series "The Rockford Files," for which he won an Emmy. His film roles also included parts in Support Your Local Sheriff! (1969), Victor/Victoria (1982) and his Oscar-nominated performance in Murphy's Romance (1985). Eva Marie Saint and Rod Taylor also continued to work in television and films, though both are probably best remembered for their memorable previous contributions to two Alfred Hitchcock classics - Saint opposite Cary Grant in North by Northwest (1959) and Taylor opposite Tippi Hedren in The Birds (1963). Director George Seaton had a huge hit of his own in 1970 with his screen version of Airport, for which his script was nominated for an Academy Award.


Producer: William Perlberg
Director: George Seaton
Screenplay: Roald Dahl (story), Carl K. Hittleman (story), George Seaton, Luis H. Vance (story)
Art Direction: Edward C. Carfagno, George W. Davis
Cinematography: Philip H. Lathrop
Costume Design: Edith Head
Film Editing: Adrienne Fazan
Original Music: Dimitri Tiomkin
Cast: James Garner (Major Jefferson Pike), Eva Marie Saint (Anna Hedler), Rod Taylor (Major Walter Gerber), Werner Peters (Otto Schack), John Banner (Ernst), Alan Napier (Colonel Peter MacLean), Sig Ruman (German guard), Martin Kosleck (Kraatz).
BW-115m. Letterboxed. Closed captioning.

by Andrea Foshee
back to top
---