DVDs from TCM Shop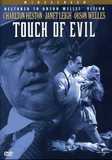 Touch of Evil A narcotics agent risks his... MORE&nbsp> $11.21 Regularly $14.98 Buy Now blu-ray
USER REVIEWS
See Detailed Ratings
Acting of Lead Performers

Acting of Supporting Cast

Director

Music Score

Title Sequence

Screenplay

Cinematography

Historical Importance

Would You Recommend?

0 Member Ratings
Rate the acting of the Lead Performers

Rate the acting of the Supporting Cast

Rate the Director

Rating of the Music Score

Rating of the Title Sequence

Screenplay

Creatively uses the camera to tell the story

Importance in Cinema history

Would you recommend for fans of this genre
Submit Ratings
Cancel
Write a Review
Read Reviews
NO REVIEWS AVAILABLE
The title has not been reviewed. Be the first to write a review by clicking here to start.
Touch Of Evil

A black-and-white film noir classic from the late 50s "Touch of Evil" is better than what audiences said it was. Charlton Heston as a narcotics agent has to do more than he thought when he and his wife have to deal with the criminal politics of the police chief who wants to frame a person for a murder in this border town in Mexico. Orson Welles who did both direct and act as the police chief finally becomes the villain Heston has to get. This was a very artful telling of this criminal storyline beginning with a long and impressive opening shot. As we get into the plot of Heston vs. Welles we see more elements enter in and by the time it is over we have a classic of corruption that ended appropriately.

That Pianola Sure Brings Back Memories

This is my favorite Welles film. The 111 minute restoration gives us an interpretation of Welles vision but we'll never know for sure. The released 93 minute original butchered by Universal according to Welles, so we'll never know what was intended by him. Great opening sequence leads into good cop, Heston and corrupt cop Welles. The supporting cast is tremendous. Career bad guy Calleia is superb as always and Leigh is great too as wife who is scared out of her wits. Cameos by McCambridge as gang leader and Zsa Zsa (!!!!!) are terrific. Marlene Dietrich in supporting role is the best, "I didn't recognize you, you should lay off the candy bars". Priceless. Cinematography is unique, moody and dark. One of the best film noir classics and basically was the end of an era. Yes, "Citizen Kane" is a landmark masterpiece but I enjoy this more, no, much more. A Top 40 film of all-time and a must see gem........he was some kind of man......Note: ditto fellow reviewer don riley....

Made by a master, but a masterpiece?

To call this a masterpiece is wishful thnking, but no one but a master could have made it. It's a movie you remember in pieces. Marlene Dietrich gets one of film history's great lines when, dressed up as some sort of gypsy-madame, sheconfronts the obese, bloated Welles, who looks to be one step away from a cardiac episode: "You're a mess, honey. You've been eating too much candy." The opening single-take tracking shot is justly famous, and thirty-four years later Robert Altman paid tribute to it with the opening scene of "The Player." These scenes may not be crucial to the film, but they leave you asking "How did they DO it?" It's like watching a kid riding the handle bars of his bike: You're impressed by the audacity of the stunt. Like most of Welles's best films, some of this is awful, but it's worth seeing for the best of it.

For my money, Welles Greatest Film

Yes, Citizen Kane is brilliant by any standard, but for me Touch of Evil is Welles greatest film. In this film noir thriller from 1958, he even out-Hitchcocks Alfred Hitchcock. The convoluted plot involves the car bomb murder of a VIP which takes place on the Mexican/US border. It was actually filmed among the ruined canals and oil dereks of Venice, California years before its rebirth as a trendy burb of LA. Welles hadn't directed a film in years when he was hired to do this as a "B" project for Universal. Even with a low budget Welles was able to produce a masterpiece, though it was butchered by Universal and underappreciated at the time. This is the restored version which was reconstructed from Welles' notes. Everything about this film is wonderful, from the casting of old and new Hollywood pros, to the Henry Mancini score, to the black and white photography by Russell Metty. Welles plays a boozy, slovenly detective who may, or may not be corrupt, called in to investigate the murder. Heston plays a Federal cop of Mexican descent who just happens to be honeymooning in the town. Heston is drawn into the investigation when he spots irregulatities in the stories of Quinlin (Welles) and the suspect. The story is confusing at times and hard to follow, so don't try to hard to understand it. It's all explained in the end. Instead just enjoy the wonderful performances, especially those of supporting players Joseph Calleia and Akim Tamiroff. Heston is pretty good too, and not his usual block of wood. Marlene Dietrich invests her performance with thirty years of experience to create one of her best, though briefest, roles. It's really little more than a cameo, but it leaves an indelible impression. Other stars who dropped by to lend a hand are Joseph Cotton, Zsa Zsa Gabor and Mercedes McCambridge. Five Stars and not to be missed by fans of Welles, Heston or Dietrich.

Orson Welles as John Huston

I honestly believe this direction and film were influenced by the earlier Huston films MALTESE FALCON and ASPHALT JUNGLE. I think both of those were superior to this. But this ain't bad, its actually great. It has some of Orson Welles's humor and sarcasm. This also has some weird statements in its set design, where did that "moose head" come from in Mexico ? Are there Mexican Moose ? ...........maybe ?..............Welles is fine as the heavy and Janet Leigh is great, and how about Joseph Calliea (sp ?)..........character actors work so well in these films, as they do in films like the ASPHALT JUNGLE and others like Kubrick's THE KILLING. Great movie five stars. Very Suspenseful, much like THE THIRD MAN. Marlene Dietrich also adds a great deal, in strangeness and philosophy.

Thanks TCM for full feature

Fascinating film noir features good vs. evil lies, when Mexico's chief narcotics official, Charlton Heston jousts with corrupt cop, Capt. Orson Welles ( many confederates) during a car-bombing-murder investigation. Opens famously with 3.5 minutes of continuous-camera shooting of bomb-rigged car crossing Mexican bordertown scene, while introducing key characters: honest Heston and new American wife, Vivian Leigh, walking naively beside car, crossing the border into their nightmare. Dazzling symbolic cinematography, choreographed by Orson Welles. Writer-Director OW introduces his character 10 minutes into the film, as iconically corrupt cop by setting the camera angle low, shooting upward from below his fat waist towards his unshaven, alcoholic-swollen face, to emphasize his lazy, self-indulgent behaviors. Planting evidence, he frames victims. Dramatic black/white uses light and shadows to portray good vs. corrupt characters. Welles' reconstructed film in 1998 runs 111 minutes. Thanks TCM for running this full feature. Five stars for Orson Welles' Masterpiece: director, writer, cinematography, casting, and character development.

Orson Welles' trilogy

Director Orson Welles' brilliant, film trilogy focuses on the abuses of power: 1) "Citizen Kane" (1941, embodiment of an arrogant media mogul presuming power to start war with Spain (the Philippines and Cuba) with bumper-strip-short clichs, headline rationalizations, i.e. "Remember the Maine." Epilogue: Excessive pride concludes his deluded life.) 2) "The Trial" (1962, personification of a politically appointed, not elected judge that unilaterally presides over the arrest, prosecution/persecution and execution of a man that never knows what was his alleged crime.) And 3) "Touch of Evil" (1958, corrupt cop Captain investigates crimes, jumps to judgment, plants evidence, frames victims, contrives convictions). All three Welles' directed films highly recommended.

One of my FAVORITES OF ALL TIME

I have watched Touch of Evil at least 6 times and every time I do, I see something I had missed before. Welles and Calleia play off each other so well. I don't normally like Heston, but I think he is excellent in this. Janet Leigh is so believable in her fright. I love noir and this is truly a great one.

Never be made today

Too many scripted words plus one has to concentrate and the scenes linger ,imagine that? ,it shows off it's date quite well.

The Last Great Noir

The Last Great Classic Noir, fittingly directed by Orson Welles. Literally dynamites the genre.

"A policeman's job is only easy in a police state"

Well said by Vargas, played solidly by Heston, in commenting about how law enforcement has the hardest jobs around and cannot compromise their convictions, lest they become the cockroaches they catch. The always underrated Calleia and Welles do great work, and as usual Dietrich is a mesmerizing one-of-a-kinder. Hitchcock must have been influenced by the whole wacko Weaver's "night man" alone at the out-of-the way motel when he cast Leigh in another classic just 2 years later. Today, it is so sad and so infuriating (and so preventable) that a touch of evil has become a ton of evil due to the devastating effect of drugs, the devil's work. It is good that Welles' includes, in the background of a scene toward the end, a can't miss neon sign: "Jesus Saves."

touch of evil

As usual, Matlin's review is incomprehensible. ("Fantastic, justifiably famous opening shot merely commences stylistic masterpiece, dazzlingly photographed by Russell Metty." ?????) Photography is excellent but I remember the original having far more texture. Even with notes, Welle's concept of it is going to be filtered through third-party eyes, so who gets to be the vicarious director? Run them back to back (at least the first 12 minutes) so I can decide.Ta.Stoo.

touch of evil

My second favorite line from this film, Vargas' question, "Who's the boss? The cop or the law?" is, of course, extremely relevant today. My favorite line is Tana's observation that Hank "should lay off the candy bars." Give it an A.

Touch of Evil

Overall-4 1/2 out of 5Lead performers-4/5Supporting Cast-5/5Director-5/5Score-3/5Screenplay-4/5Cinematography-5/5Importance-5/5Recommendation for fans of genre- 5/5

Touch of Genius

Wells' greatest endeavor. Case in point - the opening sequence. In my opinion, the most unforgettable first few minutes in the history of film noire. In order to fully appreciate this masterpiece, it should be viewed in a theatre. Wells' direction delivered performances from the leading principals over and above what I could ever imagine. Art Direction, Sound Editing and Cinematography create an exquisitely sinister ambience.Marnie Howell

Good movie but...........

Charlton Heston is in over his head in this one. A more talented actor would have made a big difference. Still worth watching though.

Touch of Evil

A milestone in the mystery genre, "Touch of Evil" is uniquely one of Welles' masterpiece. Welles is unquestionablly perfect as the corrupt chief, while I found Heston giving a compelling, but miscast part. The sinister atmosphere & the jazz music of legendary Henry Mancini make this a must-see for lover's of Welles' work. I give it a 4/5.

Question re: ouch of Evil version on sale here

Is this the restored version with Welle's notes?

T.O.E Re-edited Version

When "Touch Of Evil" (1958), Orson Welles classic Film Noir thriller aired on TCM 10/4/10, I could see that it was not the restored original version, but the one re-edited by Universal-International without Welles' permission. This prompted him to write a lengthy memo to the studio pleading that the film be restored exactly the way he had made it. The most noticeable change is the opening scene, shot in one continuous three-minute take. In the restored version the film's credits are shown at the end in a separate sequence, but in the re-edited version the credits are shown at the beginning over the opening scene and it really detracts from its suspense, from the bomb being planted in the car to when it explodes. When TCM aired "Touch Of Evil" on 9/8/10 it was the original restoration, so I don't get why the re-edited film was shown on 10/4. This is maybe the next-to-last great Film-Noir -"Odds Against Tomorrow" (1959) is the last. T.O.E. has all the qualities of a classic, from a great cast featuring Charlton Heston, Janet Leigh, Orson Welles, Akim Tamiroff, Marlene Dietrich , et al. (Dennis Weaver almost steals the show with his over-the-top perfromance as the wacked-out motel night man), great B&W cinematography by Russell Metty, and the powerful jazz-driven score by Henry Mancini that sets the mood for the entire film. When T.O.E. was released in 1958 hardly anybody paid attention, maybe because Welles' artistic and creative vision as a film maker was not appreciated at the time. "Touch Of Evil" today is regarded as one of the top Film Noirs of all time, and I don't think there are many that can dispute that. BTW, next time you air T.O.E. TCM, please show the restoration!

Touch Of Evil

I produced the re-edit.Thank you for the comments.

Touch of Evil

A brand new movie for me. Thank you TCM! My oh my, what a wonderful film. Orson, Chuck, Marlene, Dennis. I was on the edge of my seat. The acting, the camera work, the classic suspense was brilliantly done. A five plus star flick I feel. This is a GREAT movie.

Touch of Evil(1958) restored version only

Classic film making Orson Welles and his "Orwellian" best. Slime ball cops mix it up at the U.S./Mexican border when a bomb attempt on Ramon Vargas(Charlton Heston) and his wife Susan(Janet Leigh) misses ,and the mystery is on. Truly one of the most offbeat film of all times adds to the character and deprth . Opening scenes just draw the viewer in deeper to the narcotic infested underworld (many similarities by todays standards) of the violent attmpts to undermine the Law, and infect society with drugs. All -Star Cast, Dennis Weaver,Akim Tamiroff, Orson Welles,Ray Collins,Joseph Cotten, Keenan Wynn, Zsa Zsa Gabor and a guest appearence of Marlene Dietrich as Tana the "Gypsy." Definite guilty pleasure, take the time to enjoy one of the oddest films ever made. Every scene is eye candy. 5 stars for doing what it was made to do,entertain and think.,

Touch of Evil (1958)

Very atmospheric, superb cinematography and very intense and suspenseful from start to finish. The offbeat casting works amazingly well. Filled with touches of brilliance. Orson Welles direction is remarkable. A classic gem. Vivid performances.

Great performances by Wells and Dietrich

Great movie with a motel scene with Janet Leigh and Dennis Weaver that anticipates Psycho's Bates motel with Janet and Perkins.

A must see

Highly re-watchable classic.

GLAD YOU LIKE IT

I produced the re-edit I enjoy your comments.

Don't miss this classic!

One of Welles' masterpieces. Has an ambiance all its own. Hope it's not a spoiler to state than Tana is played, unbilled, by Marlena Dietrich. She oozes with charisma in this flick. I love the player piano in the brothel...it's actually like an additional character in the film. It also adds punctuation to the dramatic narrative. General mood of the film is a downer, but there's quality in every facet. It will stick in your mind!
*We protect your personal infortmation and will not provide it to anyone without your consent. For a complete explanation, please refer to TCM's Privacy Policy. By submitting your contribution, you agree to TCM's Terms of Use.