DVDs from TCM Shop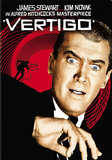 Vertigo A detective falls for the... MORE&nbsp> $11.21 Regularly $14.98 Buy Now blu-ray
USER REVIEWS
See Detailed Ratings
Acting of Lead Performers

Acting of Supporting Cast

Director

Music Score

Title Sequence

Screenplay

Cinematography

Historical Importance

Would You Recommend?

0 Member Ratings
Rate the acting of the Lead Performers

Rate the acting of the Supporting Cast

Rate the Director

Rating of the Music Score

Rating of the Title Sequence

Screenplay

Creatively uses the camera to tell the story

Importance in Cinema history

Would you recommend for fans of this genre
Submit Ratings
Cancel
Write a Review
Read Reviews
NO REVIEWS AVAILABLE
The title has not been reviewed. Be the first to write a review by clicking here to start.
Curiouser and Curiouser

My mother took me to see this not long after it opened, when I was 9 or 10. I was unnerved by the trick "vertigo" photography but beyond that was baffled by it. It really is one of the strangest "classic" films of all time, with crazy, unexplained plot twists and long silences that make you wonder if someone left out some lines. The special effects are gimmicky and dated. But hidden within it are rewards for the patient viewer. It is absolutely the most visually beautiful film Hitchcock made, almost a series of postcard memories of old San Francisco and by extension, America in the 1950s. Shots by the bridge and near the boarding house could have been painted by DeChirico or Hopper. The music score is haunting and sustains the languid, hallucinatory pace of the movie. To call it a thriller is perhaps a misnomer--it is a mystery, but the real question is not what happens in the film: it is what happens to us when we are obsessed. It is about our need to create illusions, to manufacture alternate lives for ourselves, hoping we will find love and meaning in them. So you may at times be baffled, at others bored, but Vertigo can't be shrugged off. It leaves a mark in your memory and replays there.

Acrophobia...Vertigo...high anxiety...

When I comment on a film here on viewer's reviews I read other viewers perspectives. One thing I noticed was no one mentioned the time period of "Vertigo". Released in 1958, the new style in filmmaking was cinemascope and although the film wasn't a box office hit the critics basically liked it. Why I bring this up is because I first saw "Vertigo" in the mid 1970's and I loved it on the small screen but I loved other Hitchcock films more. I enjoy all Hitchcock films, big fan, seen them all except one silent, thanks to TCM. In the late 1970's various theaters in NYC including the Ziegfield, the old Lowe's theater, Radio City Music Hall and a few others were reviving classic older films similar to TCM's efforts to bring old classics to the big screen. Though today, home entertainment centers get better, it doesn't compare to the great movie palaces, you have to have wealth to build state-of-the-art one in our homes. I saw "Vertigo" in 1978 or 79 on the big screen like it was meant to. The art/set direction, glorious cinematography, the soundtrack was also memorable, the location shooting, the Technicolor beautiful and yes the story. A detective (Stewart) with issues helps a friend (who needs enemies) to follow his wife (stunning Kim Novak in one of her best performances) and keep tabs which gets creepy, may I say stalking. Madeline commits suicide, our hero has nervous breakdown and a year later meets Madeline (tricky) double...our detective gets creepy again playing dress up, damsel tells the truth that his rotten friend set him up and they'll live happily ever...BAM... she really falls out the tower window dead....closing credits. I love this masterpiece but I do put "North By Northwest" higher. Many film critic geniuses put very high on their lists they do every now and then, me not as high. A Top 40 film of all-time and a must see film. Note: the more of these reviews I do the more I sound like fellow reviewer a.morris....ok

Forget the script...

In fact, next time I view it, I'll forget the sound. To me it's a satisfying visual journey through time 60 years ago, when the old hotels frequented by Novak still existed, safe and dead quiet, with glowing walnut banisters and old but beautiful carpets, demure spinsters in charge, "Mr. Detective, you want to take a look?" or surreal green neon giving the entire room a dreamy glow. It's easy for Stewart to tail Novak in the city of San Francisco because there are hardly any cars, and when he wants to visit a cemetery or a mission at night, the gate's open. What a world we lost! It was good to go there...very good. As to the plot and the film itself, I'm in the I-think-it's-overrated camp.

filmed canvas

this is the masterwork of artists. this changed what could be in the art of film to what should be expected in the art of film. elements of kubrik..disney..ford..capra..huston..altman..kurisawa and many others swirl within the heart of this story. there is a void where a soul belongs and there is the genuine display of love and want. savage and tender..cruel..and understanding..it has doubt of senses and acceptance of reality. the location is a beautiful hell dante never wold have thought of. the main character is the most selfish and sincere being imaginable. the spirit of poe floats within this world. it is horror noir . the work was never fully respected in the era it was presented in. hitchcock..stewart..and david letterman..three men who were never destined to get what they wanted out of this story.

Vertigo Still Lost

Unlike a previous reviewer, I'm not shouting Hosannas over "Vertigo" because of "those in the know happen to have great knowledge about great film making." I could care less that I may be the only person who doesn't fawn over "Vertigo" because I still think it is vastly overrated and far from Hitchcock's best.

Left Hanging...

In the first minutes of the film (see my review further on) Stewart is left hanging on a roof gutter with clearly nowhere to go. How did he get out of that predicament? One of several unanswered plot questions Hitch does not bother with.

Acrophobia!

Fear of heights is a personal one for me and just watching this film gives me that emotion all over again; however, this doesn't stop my viewing this film whenever it is on. The film has many twists and turns that keep you guessing the whole film though. For those many of you grousing about this film, the AFI lists it as the 9th greatest of all time and, in "Sight and Sound," this film is rated #1 of all time. It may not be your preference but those in the know happen to have great knowledge about great film making and that knowledge is borne out by the ranking of this film as one of the greatest. I happen to agree with them!

Dream A Little Dream...

To paraphrase Scorcese, forget the plot. A fever dream of sexual obsession, maybe Hitch's most personal film. Visually stunning with a haunting, disturbing Bernard Herrmann score mirroring the emotional current. Something about this film touches the unconscious river of dreams.

Vertigo Lost

I think audiences and critics were right to dismiss Vertigo when it was originally released in the late 50s and fail to see why it has gained so much in stature since then. Despite fine performances from James Stewart, Kim Novak and Barbara Bel Geddes, the script is too thin with the main plot twist revealed much too soon and there's not enough to carry the film to its abrupt end. There are a number of other Hitchcock pictures which are better than this one. I understand Hitchcock wanted Vera Miles play the lead female role, but then had to settle for Novak and I think it shows up in the direction of this film.

Vertigo Found

As the title of this movie attests to, the story itself spins its viewers, disorienting them as to the triumph of murderous ambition through the diversionary exploitation of a weakness within the constitution of a useful idiot. Such has been our lot for 300 years (or since the pronouncement of the death of God) which should have ,by now, re-established our new equilibrium!

Vertigo

Another classic from Hitchcock as we see former police detective James Stewart hired by a friend to follow his wife around San Francisco. Later she jumps into the bay near the Golden Gate Bridge but he saves her and later they get closer. Still later they go to a mission south of San Francisco where apparently he sees her jump to her death but....only apparently. Kim Novak is the woman of mystery that later comes back into the story to haunt him even more. "Vertigo" was not the hit it should have been even though all the elements were there for something good. This was good movie intrigue but somehow missed the popular vote. Still it goes down as one of Hitchcock's best telling a mystery in some striking terms and being a hotly-discussed movie.

vertigo

Yes it belongs on any list (except mine) of the top fifty American films, but it's a work of such unvarnished contempt for the human race that it's best avoided. Give it an A. P.S. One of the only mainstream Hollywood films before the 60s where the bad guy ( Gavin Elster) gets away with murder.

Vertigo

Among the darkest films Hitchcock has made. A retired cop with a fear of heights is assigned to follow his friend's wife, where mystery and death go hand-in-hand with her. Stewart deserved an Oscar nomination, as did Novak as "Madeline" and "Judy," the woman the Stewart hungrily tries to mold into his version of "Madeline." These transformation scenes with Stewart and Novak later in the film are nasty, but effective; there's Hitchcock's usual mastery of suspense with Bernard Hermann's iconic score. The unofficial best film of '58, and another film that justifies why the '50's were Hitchcock's best decade. I give it a 5/5.

Overrated

This slow and absurd story is Hitchcock playing out a personal problem. As a movie, it is very poorly done with bad acting even from Stewart.

Excellent Movie

I love Hitchcock movies and VERTIGO is one of the best ones Alfred made. Great performances, great direction and production, I loved the many story and the different shades of meanings. Also, the San Francisco landscape is fabulous setting for the film. I would say that it is one of Hitchcocks' best films although most of them were superior

Vertigo

Overall-4 1/2 out of 5Lead performers-4 1/2 out of 5Supporting Cast-3/5Director-5/5Score-5/5Titles-5/5Screenplay-4/5Cinematography-5/5Importance-5/5Recommendation for fans of genre- 4 1/2 out of 5

One Of My Favorite Films

This Is One Of My Favorite Films, I Like This Film Because Of Alfred Hitchcock's Direction, Robert Burks Cinematography And The Score By Bernard Herrmann.

Vertigo (1958)

Some okay performances (Novak looks soooo much better as a brunette; the other way she looks like a man!), but I was not impressed with the story itself. The plot is artificial and circular and the ending was abrupt and dissatisfying. I don't expect a happy Hollywood ending but this was just so gratuitously impotent, not to mention sadistically cruel to James Stewart's character. Don't know why this flick is so revered, but then "The Birds" is also inexplicably popular as well. I recommend Dial M For Murder, Rear Window, and Saboteur as infinitely better examples of Hitchcock's films.

A Month of VERTIGO

This film is of such quality and caliber that I've hosted a month-long tribute to it on my blog, The Lady Eve's Reel Life. Thirteen bloggers, including four Hitchcock experts: biographer Patrick McGilligan and authors Steven DeRosa, Dan Auiler and Joel Gunz aka/Alfred Hitchcock Geek are involved. Also contributing is Christain Esquevin, author of "Adrian: Silver Screen to Custom Label" - he has written a piece on Edith Head's costumes for "Vertigo."This is one of the great masterpieces on film by one of the great masters of the cinematic arts, and more than deserving of a full month of blog posts.

Vertigo

One of Hitchcock's best, Vertigo is the story of a detective with a fear of heights who falls in love with a woman he was hired to follow, but the worman commits suicide when the detective, due to vertigo, cannot stop her from racing up the steps and falling from a bell tower in an historic Spanisn mission. Set in 1950's San Francisco, Vertigo is a tale of deceit, murder and obsessive love. James Stewart's passionate love for his Madeline, portrayed by Kim Novack, is palpable. Excellent for nostalgic 1950's autos, designer clothes, hair styles, street scenes and stockings with seams, as well as Bernard Herrmann's outstanding and unforgettable music score.

Masterpiece

Kim Novak gives a classic performance in Alfred Hitchcock's Masterpiece "Vertigo". This movie is so great that every time I see it I am spellbound by the story and find new tidbits in the film, and Hitchcock's direction. Kim Novak then the biggest star in the world was loaned out by her home studio Columbia and leaving the cocoon of a friendly studio to Paramount may have been a reason for casting Kim Novak who gives one of the great performances in movie history. James Stewart is fine and a supporting cast of fine professionals such as Barbara Bel Geddes add to the great film. As great as Vertigo is considered today the Picture was not well reviewed when it premiered. Considered by many including me that this is Hitchcock's finest film, his Masterpiece, the film did not receive any Academy Award nominations much less wins. Astonishingly neither the Picture, nor Hitchcock, nor Stewart nor Novak were nominated. Only the sleek Kim Novak still survives and I wish the Academy would rectify this glaring error by awarding Kim Novak an Honorary Oscar for her splendid work in Vertigo. I cannot think of another actress of her era who could have given the performance of a lifetime Ms. Novak gave in Vertigo.

Beauty With Intellect

There is no work of art that better depicts the illusory nature of romantic intoxication between male and female. Here we have two average souls, a man and a woman, who are essentilly forced to assess the following question about themselves: how much illusion am I willing to accept in my life? And of course Hitchcock indirectly forces the audience to ponder the very same question. And all of this intense soul searching is carried out against a symbolic color scheme, reds and greens, like no other in motion picture history. Robert Burks'exquisitely rich cinematography and Bernard Hermann's devastatingly seductive score serve the master's purpose in a way that leaves the viewer speechless. This is indeed the kind of motion picture that one might call dangerous--dangerous in the sense that it reminds us how easy it is to be seduced by intangible things that can do us the most tangible harm.

leah's review

vertigo is a film that should never be stuffed away but watched again and again. its a film that is hard to understand at first but watching it again and again you finally get the big picture. i love it after all.

Amazing

The movie blew my mind, I wasn't expecting much, but what I got, wow it was amazing. Jimmy Stewart's best performance I've ever seen, Only the work from a master, I'd have a easier time explainig triginomatry in 5 minutes then explain this movie in 5 minutes, and I'd spoil it, so see it for yourself.

INCOMPARABLE

What can one say? This is, in my opinion the greatest piece of cinema ever made. That his reputation was linked to mystery, horror and the "Master of Suspense" only serves to divert attention from his far greater achievements: The psychological and romantic characteristics in human relationships. Although Vertigo may be looked at as a typical mystery-movie, it actually has a great deal to say about the nature of love, beauty, the effect of the dead on the living, regrets in life, predestination, and many other themes. I could go on, but if you've gotten this far, I hope I've at least drawn your attention to view it. I first saw it about 30 years ago, and at least fifty times since then; twice a year. Another item: Although Hitch was renowned for his plot twists, his films do occasionally have an impossible plot element in them: In Vertigo, it is the scene in the McKittrick Hotel: We clearly see Madeleine enter. Stewart enters maybe 60 seconds later: What happened to Madeleine? Hitch himself acknowledged that there really is no answer; it's just part of the movie. You just continue to watch it. Perhaps because he had earned the deserved reputation of a master plotter, he felt he could have a little fun and insert the occasional plot element that was unexplainable. If you love Hitch, you really don't mind. And for a previous reviewer, Hitch's personal fave of all his works was not Vertigo, but Shadow Of a Doubt, another one of his best. But today, fifty years later, it can be said that Vertigo is an incomparable film, which offers fresh insights every time you see it. Toby

Hitchcock's All-Time Talked About Masterpiece.

Frank Harris Horn

12/27/09

Of all the movies Alfred Hitchcock made in his distinguished career, this one he considers to be his personal favorite. This psychological crime drama based on Pierre Boileau and Thomas Narcejac's novel, D'entre les morts, stars James Stewart as a retired police detective suffering from acrophobia (fear of heights), and is hired by an old school chum in San Francisco to keep an eye his wife, of whom, he eventually falls in love with. Kim Novak gives a mesmerizing dual role performance. Bernard Herrmann's haunting musical score is always riveting. Also starring Barbara Bel Geddes, Tom Helmore, Henry Jones, Raymond Bailey, Ellen Corby, Konstantin Shayne & Lee Patrick.

Barbara Bel Geddes' Role as Judy

Actually, Judy is played by and credited to Barbara Bel Geddes,not Novak in a double role

Mystery of the Woman in the Opening Credits

All the reviews I have read that discuss Saul Bass' brilliant opening credits, refer to the the actress whose face appears at the beginning of the credits as just "a woman". After comparing, on the Collectors Edition DVD, the face in the credits with the face of Carlotta Valdez in the famous dream sequence, I believe that they are the same actress (Joanne Gethone or Jacqueline Beer according to the TCM Notes). Although we view them from different angles, they share the same beauty mark, cleft chin and mysterious eyes. If this be so, previewing the obsession with Carlotta in the opening credits, would be another brilliant piece in an already brilliant film.

One Of Hitch's Top Ten

"Vertigo" is a study of two people fighting their own personal demons - James Stewart as detective John (Scotty) Ferguson battling against his acrophobia (which he was unaware had until it led to the death of a fellow cop), and Kim Novak as Madeleine Elster, plagued by memories of a past life and dark dreams which she can't figure out. Eventually we learn that Ferguson is the victim of a scheme by Madeleine's husband in which he murdered the real Madeleine and how he coached and dressed a girl named Judy Barton (Novak in a dual role) to replace her. At the end, Ferguson discovers the truth and as a result he is cured of his acrophobia when he climbs the steps of the church without fear. It also results in the death of Judy/Madeleine when she falls from the bell tower, and after she tells Ferguson that she didn't tell him the truth about her because she had fallen in love with him. One of Hitchcock's top 10 films.

Suspense & Seduction

This is probably my favorite Hitchcock. The first time I saw it, I thought it was boring. But the more you watch it, the more it sucks you in & you get seduced the same way Kim Novak seduces Jimmy Stewart. One observation I have that I've never heard another film critic or film maker observe is this: Watch the sequence when Jimmy Stewart is tailing Kim Novak around San Francisco as she leads him to the flower shop, the cemetary, the hotel, etc. Most of time as Stewart follows her, Novak is going downhill & to the left, as if sucking Stewart into a whirlpool--which is a good metaphor for the situation Stewart finds himself in. Also notice when he walks through the church to follow her to the cememtary, the music is gradually falling--another hint of the whirlpool metaphor. Three times in the movie, Stewart follows Novak up instead of down (at the hotel where she dissapears & two times at the spanish mission). All three times he loses her.

Minority Report

I am a big fan of the three main characters in this film; Jimmy Stewart, Kim Novak and the director, Alfred Hitchcock. The first thing you must do to become a Hitchcock fan, is to suspend your disbelief (in the plots of his films anyway). Vertigo is a beautifully filmed, acted and directed movie. It has a haunting musical score by Bernard Hermann; and Kim was never more beautiful. BUT, and this is a big BUT (no pun intended)! The plot has more holes and coincidences than in a block of swiss cheese. But for argument's sake, lets narrow it down to one. In order for ANYTHING to work, Elster (the villain) had to be certain that Scotty was going to fall madly, obsessively in love with Madeline. I know, it's Kim Novak, who would'nt, right? But no matter how gorgeous, no one could know this in advance when you throw two people together. Bottom line? Taking into consideration the aforementioned, I enjoyed the movie. But a masterpiece? I don't agree.

A Masterpiece from the Master

I am in awe of Hitchcock. He was a genius, of which there is much proof: The Lodger, Rebecca, Mr. & Mrs. Smith, Foreign Correspondent, Shadow of a Doubt, Lifeboat, Notorious, Strangers on a Train, Rear Window, North by Northwest and Psycho - to name a few. At the top of the list of his very best is Vertigo. I think it's one of the most hypnotic, beautiful and affecting films ever made. It's theme is obsession, and what a work of art Hitchcock created around his theme. This is one of James Stewart's great roles and the highpoint of Kim Novak's career. With beautiful San Francisco (and the Bay Area) as a backdrop and Bernard Herrmann's score, the film is perfection (regardless of a trifling red herring or two). Vertigo is mesmerizing and it haunts me. At the end, Scotty looks down from the tower where Judy/Madeleine has fallen to her death. He has been cured of his vertigo -at an unimaginable cost. Vertigo is Hitchcock at his most magnificent.

I left my heart in San Francisco

Verigo is probably Hitchcock's best film. Never has San Francisco been photgraphed so beautifully. The music is hypnotic and effective. Even though James Stewart plays an unlikeable character, he is still great. Kim Novak was perfect in her role. I highly recomend this movie to anyone who likes great suspense, and to anyone who has left their heart in San Francisco.

Nice movie to watch anytime

Vertigo is really alright. It's unique like Alfred Hitchcock movies. What I like about Alfred Hitchcock movies is that it doesnt have to have bloody, digusting, grotesque images or things of that nature that is used nowaday to be suspenseful and scary. How many thriller movies can you find nowadays that you can watch more than once or be glad that you watched it? I find none. Vertigo on the other hand is brilliant and classic. It is a decent movie.

Magnetic Movie, Superb Novak and Stewart

One sees Alfred Hitchcock's 'Vertigo' over and over and it gets better and better. James Stewart is perfect and no one on this planet perhaps other than Garbo could have done what the great and much under appreciated Kim Novak did with the female Lead. Miss Novak is magnificent.Sumptous Bernard Herrmann score adds to the greatness of this movie.Fact: This is recognzied as one of the greatest movies ever made but it did not get nominated in any major category....Picture, Director, Actor, Actress. A glaring oversight. Only the great Novak still survives and the Academy ought to award Kim Novak an Honorary Oscar for Her great performance. ( Susan Hayward won that year-deservedly-for her great performance-one of the best ever for "I Want To Live", the other 4 nominees were Roz Russell for "Auntie Mame",Deborah Kerr for "Separate Tables", Shirley MacLaine for "Some Came Running" and Elizabeth Taylor for"Cat On A Hot Tin Roof"...Novak was robbed of a nomination but I am not sure which of the 4 actresses I would have taken the nom away from to give it to Kim. I would not have taken the nom from Hayward.My best guess is that Shirley MacLaine is really a supporting perf and if nominated in that category she would have won.

Ellen Corby as hotel keeper

How did Madeleine (Judy Barton) slip into the McKittrick Hotel w/o the manager seeing her? Was she busy putting olive oil on her rubber plant as she said? Why was Madeleine's key still on the key rack?

My favorite movie Kim Novak is beautiful!

This is a true 4 star movie & my favoriteof all time. Hitchcock's true masterpiece.Beautiful San Francisco. The dream sequence is so powerful. Kim Novak is ultra sexy & such a dream woman. Anyone who's ever been in love & obsessed with a beautiful woman (like me) can so relate to Jimmy Stewart. Amazing photography acting & Hitchcock's the best! Herrmann's score is stupendous!

EACH TIME I SEE VERTIGO

EACH TIME I SEE VERTIGO, I KEEP HOPING THAT KIM NOVAK WILL NOT SEE THE NUN THAT FRIGHTENS HER, THAT LEADS TO HER DEATH.EACH TIME I HOPE ,MAYBE, JUST MAYBE, SHE'LL COME BACK IN ANOTHER CHARACTER. THE MUSIC OF BERNARD HERRMAN IS SO "HAUNTING" AND BEAUTIFUL. MY FAVORITE SCENE IS WHEN KIM NOVAK WALKS INTO HER ROOM AS THE REINCARNATED MADELINE, SHE'S "BATHED" IN A GREEN "GOSSAMER" LIKE LIGHT, SHE'S "ETHEREAL" IT'S THE MOST ROMANTIC SCENE IN FILM EVER! I LOVE VERTIGO!

EXAMPLE OF STEWART'S GREAT VERSATILITY

This film demonstrates Stewart's great talent. His character is so different than in any other role of his dazzling career. I believe that no actor could capture the character's complex vulnerability later in the film when he tries to mold the Kim Novak character into the woman he loved and lost. Not only Stewart's best, most complex performance but Hitchcock's richest film.

THEY DO NOT MAKE THEM LIKE THIS ANYMORE!

My favorite Hitchcock movie. The cast. The locations. The story. Pure perfection. Oh...and the suspense!!

One of the greatest!

"Vertigo" quite simply is one of the best and greatest films ever made! Not only is it intensely romantic and thrilling, it's also one of the sexiest movies I've ever seen!From it's beautiful haunting score by Bernard Herrmann to Hitchcock's masterful direction, this is the kind of film that sticks with you for the rest of your life. One of Jimmy Stewart's greatest performances and Hitchcock's true masterpiece!
*We protect your personal infortmation and will not provide it to anyone without your consent. For a complete explanation, please refer to TCM's Privacy Policy. By submitting your contribution, you agree to TCM's Terms of Use.